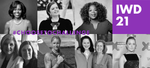 Happy International Women's Day!
This morning Melissa had the pleasure of speaking at Ruhama Ireland's coffee morning
. Ruhama is an Irish NGO and registered charity that offers nationwide support to women affected by prostitution, sex trafficking and other forms of commercial sexual exploitation. The work they do for women is truly incredible and inspiring, it is so important we speak up around these issues.
Today is also Success' seventh birthday! We are so proud to have come this far and are so grateful for the support we have gained throughout our journey. The Success bar marks a journey of all women, those who lead and inspire and all of us who are moving forward overcoming the many hurdles life throws at us. Success is now worn by women all over the world, the bar connects us all as we move forward and choose to challenge.
The theme of this years IWD is 
#choosetochallange
. Lets stand together and open a conversation about what each of us can do to challenge the status quo and ensure gender-balance across all aspects of society. We hope everyone had a great day.