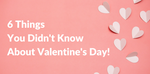 Valentine's Day is not just roses and chocolates: here are 6 unique facts you didn't know about the annual celebration!
1. The first Valentine was sent in 1415
The oldest known Valentine was sent in 1415 from a medieval French duke called Charles to his wife. At the young age of 21, Charles wrote the letter whilst imprisoned in the Tower of London! In the poem he calls his wife: "My very gentle Valentine." 
2. Irish people are some of the most romantic!
The Irish spend the most on Valentine's Day compared to the rest of Europe, with the average bouquet of flowers costing €55 compared to €47 in the UK and €33 in Germany. Ireland spend around €200 million on the day alone! 
3. Ireland has a unique link to Saint Valentine 
In 1836, Father John Spratt, an Irish priest, gave a sermon in Rome that resulted in attention from the Christian community. Father Spratt received many gifts, but the most significant came from Pope Gregory XVI: a relic of Saint Valentine himself with a letter of authenticity. These gifts still remain at Carmelite Whitefriar Street Church in Dublin today. 
4. 1861 - the year of the heart-shaped chocolate box
The first heart-shaped boxes of chocolates were invented by Richard Cadbury (son of Cadbury founder John Cadbury). He had the idea to package chocolates in appealing boxes in an effort to increase sales and the first heart-shaped box was produced for Valentine's Day 1861! 
For those that don't know, Galentine's Day is an annual celebration of female friendship, celebrated the day before Valentine's Day (13th Feb). Surprisingly, Galentine's Day originates from the fictional sitcom Parks and Recreation. Leslie Knope (the show's lead character) invented Galentine's Day as a day of "ladies celebrating ladies". Fast forward 12 years and the day has stuck, resonating with the real world and is now an annual celebration of our gal pals (read more here!). 
6. Jewellery sells more than chocolate and flowers, combined!
According to the National Retail Federation (NRFI), a massive $4.1 billion of the total spend on Valentine's day is spent on jewellery, whilst $2 billion is spent on chocolate and flowers each? 
My WARRIOR and SUCCESS collections make the perfect gift for your Valentine. 
WARRIORS come in many forms. Champion them through the day with the WARRIOR Pendant or gift them the stunning symbol of the spiral with my WARRIOR Spiral Ring. 
My SUCCESS Little Bar of Strength comes in a variety of colours with different meanings, cheering you on during life's difficult moments. This daily reminder of love and strength will show your Valentine just how much you love them, all year round.