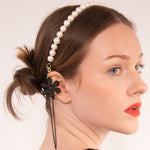 I am delighted to to be a part of Create this year
I feel I have come full circle, the Fleurs collection revisits my journey as a designer, it touches on the different chapters, moods, and experiences as a female artist.
Paris was a very romantic time in my life, which was very much reflected in my work, and my esprit.
I enjoyed reliving these important memories when putting this collection together for Brown Thomas X Create.
The pieces are all made by hand, at our studio.
The mood is nostalgic and personal, many of the pieces have been woven by hand, a technique I used in my formative years.
Pearls are of course the epitome of femininity, and an ode to Coco Chanel, who impacted my work during my career as a young designer in Paris. 
I have also added some of my more contemporary work which adds a little joie de vivre. I think there is something for everyone to enjoy.
I'm delighted to be meeting new faces and creating again. 
It has boosted the morale and reinvigorated all of us.
I look forward to meeting you all over the next few weeks.
Thank you to all at Brown Thomas, we are happy to be with you.
Keep an Eye on our socials for all relevant updates,