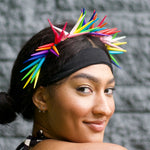 By Lauren Marie Painter
Returning from an exciting debut on board Richard Branson's latest cruise experience 'The Scarlet Lady,' OHLALA is home to celebrate Ireland's annual Pride 2022. Launching a special edition at Dublin Airport, Melissa Curry's uplifting and symbolic jewellery radiates blissful Summertime moments designed to give you that 'OHLALA'.
Holding significant history, the first piece of this collection was imagined and brought to life in 2015 alongside the celebration of Pride. This notable and momentous collection signifies inclusivity in a time where the Island of Ireland united in 2015 for the Same-Sex Marriage Referendum. OHLALA encompasses an extraordinary moment in history, creating a cherished space in the hearts of many. This particular collection was worn by Panti Bliss the day Ireland became the first country to legalize same-sex marriage by popular vote.
OHLALA debuts an attention demanding presence. Encapsulating joyful moments in the sun and glimmering with wondrous arrays of colours, Melissa Curry's iconic collection is adorned by celebrities and people across the world. Beaming with fantastical energy, Michelle Visage and Paul Ryder are among those who have donned the commanding OHLALA. Belonging to a long line of iconic and signature collections, OHLALA consists of bold cuffs, neck pieces, smaller rings, embellishments, earrings and hair combs. Each of these pieces carries her trademark 'M' initial disk emblazed in both gold and silver.
Within Melissa Curry's collections, each individual piece is a staple in the sustainability movement and aligns with an earth first conscious sentiment. Concocted with their climate footprint in mind, Melissa's immersive designs are fashioned together using zero plastic and adoringly wrapped using individually made and printed bags ,  sewn by the women of Bassam, Cote Ivoire.  All pieces are hand crafted which bestows a unique experience for each wearer with no two pieces the same. These climate conscious values highlighted Melissa Curry's label; positioning her to be hand selected by Richard Branson's sustainable-first travel brand Virgin Voyages.
Melissa Curry's label is a strong hold for the diverse and creative; paving inclusive platforms for the youth of our society. Recently welcomed young aspiring musician, Joyce Zacks was announced as the new face of Melissa Curry. Influenced by artists such as Machine Gun Kelly, Zacks sways between the genres of rap and alternative. Renowned for her single "Dublin Boys", Zacks is a rising female artist representing the diverse culture of our nation. Heavily determined to break the barriers of freedom and equality, Joyce Zacks is the embodiment of shining light on shadowed times.
For updates on Melissa Curry collections, visit melissacurry.com to stay in touch.