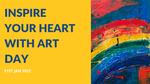 Happy Inspire Your Heart With Art Day! Lift your spirits and get involved through reconnecting with your creative side and celebrating your inner artist! 
"But I can't draw!" 
Yes, you can! Everyone is an artist, you just might not realise it yet. Often, as we approach adulthood, we move away from art because we were not perceived as "gifted and talented" as children. We may have compared ourselves to our peers and now deem ourselves to be "uncreative". 
But art is so important as it is liberating. It is inclusive and does not discriminate. More so than ever, being creative is essential for our mental health and wellbeing, encouraging expression, creativity and freedom.
With that in mind, here are a few ways you can celebrate today:
Go to a Gallery or an Art Show
This is a great way to learn about art, from the classics to local, niche artists. Being Dublin-based, we wanted to focus on our local area, but there are plenty of spaces nationally and internationally that you can visit to celebrate today! The options are endless. 
I recently visited the Irish Museum of Modern Art. It's free and has a whole host of inspiring art exhibitions.  There is also the National Gallery of Ireland, The Hugh Lane Gallery and Temple Bar Gallery + Studios to name just a few. 
Artwork from the current exhibition at the IMMA: "The Narrow Gate of the Here-And-Now".
Go to the Theatre or Cinema
Over the last two years, the creative arts industry has been decimated due to COVID-19. An easy way to show your support is to visit your local theatre or cinema. There are a whole host of options: The Bord Gais Energy Theatre and The Abbey Theatre host plays and musicals all year long, whilst the Irish Film Institute premieres an array of indie films throughout the week. 
Listen to Music or Enjoy a Live Gig
If plays aren't your thing or you're not in the mood for a film, how about a concert? There are plenty of live music institutions in Dublin: the 3Arena, The Workman's Club, The Academy - there's something to suit every taste. If you would rather have a night in, then grab your phone, put your favourite album on and relax. 
Watch Art Programmes
There is more opportunity than ever to learn about art via your television, with plenty of programmes to keep you entertained. Sky Arts is a great place to start - it hosts accessible shows such as Landscape/Portrait Artist of The Year and is usually available to watch without a Sky subscription.
Sky Portrait Artist of the Year Hosts: Joan Bakewell and Stephen Mangan.
Take Part in a Class
Want to get out and meet new people? Why not take a class? It doesn't have to be just painting or drawing. Try your hand at photography, videography, dance - whatever you fancy! This is a great way to get friends and family involved too, as well as learn new skills. Have a look at some local classes here. 
Do Some Artwork at Home!
Lastly, why not keep it simple? Do some artwork at home, especially if you haven't done anything creative in a while. Explore different art styles and encourage children and adults alike to join you. 
There are plenty of local spaces with their own story to tell. What can you find around your area? Share them with me @melissacurrydesign on Instagram!