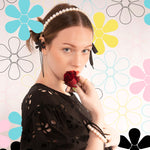 With the launch of my latest collection Fleurs, I wanted to take some time to explain my creative process behind the designs and what the collection means to me.
1. What inspired me to create the Fleurs?
 "Fleurs is, firstly, a reflection on the times we are in : women need uplifting jewellery that can bring them a sense of femininity, style and longevity. I wanted to create something dynamic, adapting to the ever-changing environments we are living. The Fleurs collection can be worn to work, on a Zoom call or out for a quick bite with friends. Whatever the occasion, they are simple, beautiful pieces that will fit any situation perfectly and provide a subtle impression.
Women want to wear something to make them feel better. I have used pearls as they are uplifting and make a statement. In our largely-virtual world, people are looking at a face on Zoom, not a full outfit; a small accessory, like the earrings, can give the impact that a full outfit does in real life.

2. French style is at the heart of this collection. How has this influenced you?
"I trained in France, where I observed that French women are very considered when they buy and invest in jewellery and fashion. Coco Chanel, for me, was a huge inspiration at the beginning of my career; she was the creator of  black and white, as well as pearls. There has always been an element of this throughout my work. The Fleurs collection is chic but it is also functional and practical. The essence of this collection is pour le femme."

3. Fleurs is a little different to your usual approach, why?
"I think I have chosen to approach Fleurs differently because we are living in significant times. I believe that we are feeling more sensitive and Fleures is a gentle, feminine gesture, dedicated to women."

4. Who is the Fleurs collection for?
"Fleurs is for women who lead busy lifestyles: working from home, going into the office or being pulled between places. We are spending so much of our time on virtual platforms, women need something uplifting, distinctive and versatile."

5. What do you love most about this collection?
"I love the simplicity and the adaptability of the pieces. I feel I have combined modern and classic together in a simple and stylish fusion."

6. What are your favourite pieces from Fleures?
"For me, my favourite piece is the Fleurs Pearl Choker. I love it as it can be adapted into both a hairpiece and a necklace. I particularly love the lace, as it brings a sense of fun and adaptability to all the pieces. I also love the Fleurs drop earrings for their elegance and the beauty they bring to the ear."

7. How and when can I wear Fleurs?
"Fleurs suit any occasion. They are chic and can be worn as a statement earring or an everyday accessory - it's totally up to you to choose how you wear your Fleurs piece! I brought in a modern lace which gives a more lifestyle feel, in response to the forever changing lifestyles and needs of my customers. The lace is inbuilt to the pieces to provide versatility: the length can be adjusted to suit whatever you're wearing, whether that be a t-shirt, a suit, a shirt or a dress.
Any piece in my Fleurs collection, particularly the earrings, make beautiful gifts for all girls and women!"