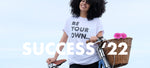 The beginning of our journey into 2022 is the perfect opportunity to reset. January is traditionally a time to set new goals, but I believe it is so important to also continue doing more of the things that already make you feel good, remaining motivated through achieving SUCCESS.
Our beautiful collection is worn to manifest SUCCESS, however that looks for you. SUCCESS makes the perfect gift for you or your loved ones who may need some extra encouragement; it is a little companion supporting and cheering you on during life's busy and challenging moments, motivating you to the finish line. 
Each piece has its own story to tell. Our Success 'Little Bar of Strength' bracelet and 'Little Bar of Strength' necklace (both available in silver, gold and rose gold) are light-catching and designed to become a part of you, serving as a reminder of your own strength and resilience. 
Left to right: Little Bar of Strength - Wrist and Little Bar of Strength - Neck 
The Little Bar of Strength - Colours are available in yellow, pink, red, orange, green, blue and purple, with each colour symbolising a mood boost. Wear yellow for happiness when you are feeling low, pink for creativity when you feel uninspired or red for victory in times of weakness (click here for a full list of the colours and their meanings).
Little Bar of Strength - Colours
The Bar of Strength Band and Success Band are simple yet versatile pieces, perfect for both everyday wear and formal events, infused with positive affirmations that make either the perfect gift for yourself or a loved one. 
Left to right: Bar of Strength Band and Success Band 
Whether your goals are physical, mental, professional or personal, be your own Success in 2022 with 30% OFF using code: SUCCESS2022