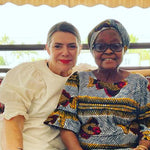 This post is a special tribute to family and friends in the Ivory Coast.
After 18 years, my son Kito and I made a special trip to revisit the family we hold so dearly in our hearts, healing the past and building connections to start the new year with laughter and love. 
The Ivory Coast is a beautiful and vibrant country located in West Africa. The official language being French, it is estimated that there are 78 languages spoken in total. Being Irish, I couldn't help but notice links between the two countries: a similar tricolour flag, the same time zone and, on a deeper level, the diverse youth culture who are the promise of the future, committed to the continued development of their country. The weather was also similarly Irish: rain! Although combined with intense humidity and intermittent sun (not usual for this time of year!). 
After the great welcome and immense family celebrations, I took plenty of time to visit local artists. The variety on offer amongst this rich artisan community is mesmerising: from small crafts behind stalls to more sophisticated art forms, there is a whole world of creativity bubbling in and around the districts. The tranquil resort town of Grand-Bassam is a creative hub of designers, photographers and creators. Artists use a variety of materials, such as wood, metal and bronze, but one of the most celebrated forms is pagne: a waxed cotton that is often brightly coloured, decorated and then worn. I also had the chance to try freshly made fufu (shown above): a dough-like food made from cassava (a nutty-flavoured, starchy root vegetable) - it was divine!
On top of that, I was lucky enough to visit the port town of Dabou, situated in the South of the Ivory Coast. The boutique hotel of L'Autre Rive is a burst of modern life, overlooking the bay. The contemporary architecture of the hotel combines with the natural surrounding landscape of the sky, forest and lagoon to offer a breath-taking view that will stay with me forever. 
This trip has meant so much to Kito and I: we have laughed, cried and released the pain. I have been uplifted by the creativity and beautiful craftsmanship that I witnessed during my time away. We are overjoyed to be connected again and excited to make more memories with our precious family in the Ivory Coast. I hope that 2022 brings such healing to all those who also need comfort and joy in their lives. 
Happy New Year to you all.